All the World's a Stage
... even your own living room!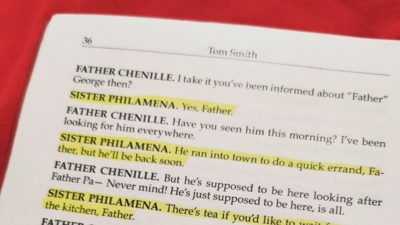 In this time of uncertainty and distancing it can be difficult to feed your creative soul, especially through theatre. Luckily, Theatre Saskatchewan has something that can help!

Our Executive Assistant Jennifer has been updating our library database and has been unable to track down information about some scripts. So, to create synopses and discover the genre, these scripts need to be read! That is where you come in!

Starting Wednesday April 8th, we will be hosting 2 script readings per week, on Monday evenings and Wednesday afternoons.

Mondays at 7:00pm CST
Wednesdays at 1:30pm CST


How does it work?
We will post the script schedule here at least a week in advance (including characters and descriptions)
You can sign up to read a role through the form linked on the sidebar

It will be first come, first served so don't hesitate!
We also need a narrator to read large chunks of stage directions.
It doesn't matter to us if you're not "fit" for the role: we are open to cross-cultural, gender neutral, any age casting.
Part of reading your role will be to read any small parts of that character's stage directions

If it's an in line stage direction, read it!
The narrator will read larger chunks of stage directions

We will create a Zoom meeting for the reading

We will post the link on our website and social media
You will gain access to the script once you join the Zoom meeting through the screen share function
The Zoom meeting will open 10 minutes prior to meeting time
For more information on how to join a Zoom meeting, click here

After the reading is over, we will be discussing the script briefly

If you do not want to read, that's perfectly alright! Please join us to listen. Plays need audiences!
As we are looking to fill out information we don't already have regarding these scripts, we cannot guarantee they will not have questionable content.
---